Montre Largo Winch -

Largo Winch watch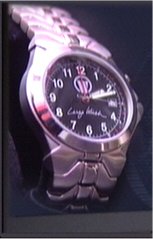 Eh oui, elle existe... La chaîne Séries+ au Canada en a fait tirer une pour la 3ième fois parmi les téléspectateurs. Je leur ai demandé si c'était disponible pour les fans qui désireraient se la procurer et ce n'est pas possible. Si quelqu'un trouve d'autres infos, n'hésitez pas à les poster.




Yes, it exists... The t.v. station Series+ in Canada had one drawn among the viewers for the 3rd time. I've asked them if it was possible for fans who wanted to buy one and they said it was not possible. If anybody can find more info, do not hesitate to post it.